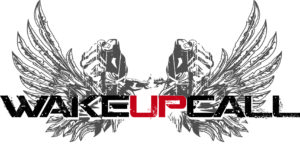 WakeUpCall is a young rock band, but their members have been around, rockin' the italian underground scene with their past projects, for years, even though their young age. Their music is a mix of passion for Rock, with lots of different shades, from Alternative to Punk, from Heavy to Pop.
They are now protagonists of an innovative project of graphic novel with their album "If Beethoven Was a Punk" released in january 2017.
WakeUpCall recorded their first 3 songs with american famous producer Beau Hill (who sold more than 50 milion of copies working with band such as Alice Cooper, Eric Clapton, Ratt….).
They started soon to hit the road, playing the biggest clubs all around Italy and Europe, playing also with international acts such as RED (Usa), Silverstein (Canada), Winger (Usa), Heaven's Basement (UK), Crossfaith (Japan), Richie Kotzen (Usa), Tito & Tarantula (Usa), Scorpion Child (Usa), Far From Finished (Usa), and About Wayne, The Fire, Vanilla Sky, The Electric Diorama, Salmo, Shandon and Pino Scotto from Italy.
The band released their first EP recorded with italian great producer Maurizio Baggio (The Fire, Vanilla Sky, Pino Scotto) in January 2011, with their first video single "Before I Fall". WakeUpCall were on tour in Italy and Europe for all 2011 to promote the EP which was reviewed from magazines and webzines all around the world as "a little Rock n Roll gem". During summer 2012 they reached 100 shows in 2 years and ended the live season playing at italian MTV HITWEEK SUMMER 2012.
Back in the studio (January – March 2012) to record the first album: Batteries Are Not Included, released on October 2012 in Italy and on December 2012 in Germany, includes three new videos/singles: To Be, Just Wanna Dance and Let You Go. The three singles were played by italian, german and austrian radios and music televisions, especially Just Wanna Dance that get into the italian indie singles top chart. The band were on the road promoting their first album from December 2012 playing live shows around Europe.
June 2013, WakeUpCall are the protagonists of an italian famous bank commercial spot with their song "Batteries Are Not Included" and the spot get more than 100.000 views on youtube in only two weeks.
Autumn 2013, the band get back on road for a second european tour to support again the first album, playing also at the Rome's Hard Rock Cafè 15th Anniversary and at Jam Rock festival 2014 in Czech Republic, collecting 150 shows through Italy, Switzerland, France, Corse, Netherland, Luxembourg, Czech Republic, Latvia and Lithunia.
Virgin Radio Italy (biggest italian rock radio) selected WakeUpCall through more than 500 bands to play the final of the biggest italian battle of the bands organized by Virgin Radio and Hard Rock Cafè. The band played a great show at the Florence Hard Rock Cafè and they reached the position #3 through all Italy.
Original bass player and drummer decided to leave the band on September 2014 due to personal reasons, but WakeUpCall did not stop, as they come back once again on tour in Italy, Czech Republic and for the first time in Poland with a new line up. They also recorded 3 new songs released as singles along with music videos during 2015.
At the end of January 2015 the band left for 22 shows in one month: 9 shows in the UK and 13 shows in Russia. It was the first time the band played in Russia and it was such a great tour that in a couple of months WakeUpCall announced a new russian summer tour (12 shows through Russia and Siberia) and the tour was sponsored by Gibson Russia.
In 2015/2016 the band were on tour in Europe and Russia for 40 shows, but they also started to work on their second album, recorded between March and May 2016 and ready to be released in 2017: "If Beethoven Was A Punk".
LINE UP:
Tommaso Forni – Voce / Chitarra
Oliviero Forni – Chitarra / Cori
Antonio Aronne – Batteria
Badd Tripp – Basso / Cori